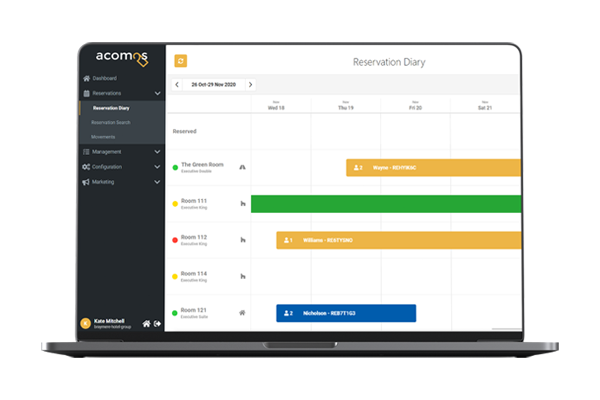 27 Jan

acomos™ launches new Saas PMS software for £1 a month for 3 months!

We are delighted to announce the launch of our new SaaS PMS, specifically designed for hotels, B&B's and guesthouses who are looking for a simple, yet powerful hotel management solution. We've been working hard behind the scenes to create the most feature-rich, essential SaaS hotel management system on the market. The brand new acomos™ will allow you to access your PMS from any location, on any device.

To celebrate the launch of acomos™ we have a fantastic special offer for the first 50 new clients who sign up! You'll be able to get acomos™ for £1 per month for 3 months and thereafter £99 per month for 3 years.

 
What's included with your subscription?
With the new acomos™ software there's nothing to download and as long as you have an internet connection, we can get you set up within an hour so you can start taking bookings straight away. We believe our PMS is the perfect solution for hotels as we have included lots of features to help make the day to day running of your accommodation simpler.
Comprehensive yet simple SaaS PMS
Easily increase revenue by managing your rates, occupancy and special offers automatically and through your website and online travel agents. Our dynamic rate plans allow you to freely update your rates and restrictions across your OTA's and website with just a few clicks.
The acomos™ smart dashboard allows you to look after your guests from booking to departure from one single screen, you can even have multiple bookings open at the same time during busy periods.
Not only can acomos™ take care of your guests but it can also produce real-time housekeeping reports for you and your colleagues to share updates and coordinate tasks.
Commission-free booking engine
acomos™ PMS includes our commission-free booking engine, StayBooked™, which allow your guests to access your hotel from anywhere in the world and receive commission-free bookings directly from your website. The StayBooked™ booking engine connects directly to the acomos™ property management system. When you receive a booking through StayBooked your inventory levels will be automatically updated on your PMS.
Your StayBooked™ booking engine is also customisable and can be easily set up and personalised with your logos, images and content to match your brand. Having StayBooked™ integrated with the acomos™ PMS will allow you to create different room types on acomos™ and have your Staybooked™ website automatically populated.
Channel Manager integration
acomos™ offers full integration with SiteMinder who connect and share your inventory to over 400 bookings channels including booking.com, Expedia, Airbnb and hotelbeds. When your PMS comes integrated with a channel manager, your OTA's are all updated in real-time, meaning there is no room for error, and you can instantly see how many rooms are vacant. The same applies to cancellations, any cancelled reservations will be bookable again within a few minutes.
How we compare to our competitors
If this is something your hotel would be interested during this quiet period, we can set up a free demonstration of our system which will allow you to get hands-on with the acomos™ PMS.  It's a great chance to openly ask questions with no obligation at all, and if you like what you see, we can get you up and running with acomos™ within an hour!
Right now is the perfect time to switch your PMS and make use of our incredible offer, click here to get a free demo of the acomos™ SaaS PMS.