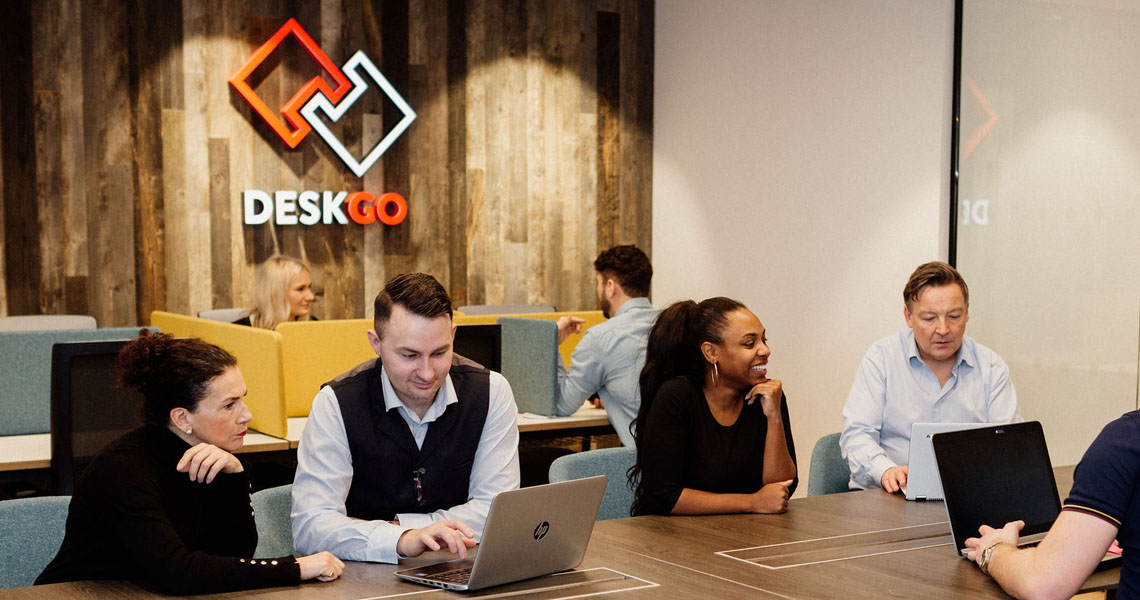 09 Jul

The DESKGO guide to coworking

Joining a coworking space can be a daunting task, especially if you've never worked in one before. In this week's blog, we will share all the things you need to know about using a shared office space, as well as what you can expect when you visit DESKGO.
What is coworking?

Coworking is essentially sharing an office space with a group of workers who all work for different companies.
Every coworking space is slightly different, but they all come with the perks of a conventional office.
Coworking gives professionals the freedom and flexibility to work independently in a space that works around their schedule.
Who can use a coworking space?

Anyone! Whether it's freelancers, start-ups, remote workers or business workers, a coworking space can be utilised by everyone.
Freelancers and remote workers
Coworking spaces are ideal for freelancers, as they offer a flexible and comfortable solution to cramped coffee shops and working from home. Not only do they offer a dedicated workspace to work in, but they also eradicate the feeling of loneliness you might experience if you're working remotely or from home. In a previous blog post, we discussed the positive aspect of social interaction coworking can provide.
Start-ups
For businesses just starting their journey, a coworking space is the perfect solution, as you'll interact and network with other professionals, which could lead to some great partnerships and collaborations. At DESKGO there are no hidden costs or commitments and by saving on renting costs you can jump-start your business much quicker.
Another useful perk of joining a coworking office is that you'll never have to worry about stocking up on essentials like coffee and toilet paper as everything is taken care of.
There have been many successful businesses that have used and still use a coworking office today. Below you might recognise some names who once started in a shared office space.
Uber
Travis Kalanick and Garrett Camp got together in a coworking space to solve the taxi cab crisis in San Francisco – 51 countries later, they are still going strong with teams working in coworking spaces around the world.
Instagram
Mike Krieger and Kevin Systrom managed to develop the Instagram App in 8 weeks in a coworking space. In 2012 Facebook purchased the highly popular social media App for a $1 billion and today the photo-sharing App has 800 million monthly active users and is worth over $100 billion.
Spotify
Spotify, one of the largest music streaming Apps, is yet another amazing tech startup that is currently used in 61 countries, has 159 million active users and a library of 35 million songs. Founded by Daniel Ek and Martin Lorentzon, in Stockholm, Sweden now has an estimated worth of £16 billion.
Why do people join a coworking space?

There can be many reasons why people join a coworking space but here are the most popular answers:
Change of scenery
If you work from home, every so often you may want to go and work somewhere new to get inspired. Coworking spaces benefit from networking opportunities that you might find hard to come by if you work from home.
Outgrown the home office
Many small companies will often find they need to scale up quickly to accommodate the changes to their growing business, and  with coworking you can quickly join and have the space you need immediately.
No longer want corporate constraints
Some companies may have similar spaces in their office but may not have a culture that encourages flexibility to collaborate with different departments.
A sense of belonging to a community
coworking spaces allow for diverse networking opportunities on a day-to-day basis, which equates to a community of potential clients, partners and mentors.
If you would like to know more about the advantages of using a coworking space, click here to read our blog post.
How to choose a coworking space

With many coworking spaces available your decision is based on more than just a desk and a comfy chair. Below we share a few tips that will guide you to the perfect spot.
Location
Undoubtedly one of the most important aspects to consider when choosing a coworking office. Look for an office that suits your clients, as you'll want a space and location that leaves a good impression when meeting with a prospect. If most of your work can be done remotely, opt for a location that's close to where you live, as starting your day without a long commute can do wonders for your productivity and well-being.
At DESKGO our coworking office is in an accessible area located in the heart of Hampton, Peterborough. DESKGO is super easy to get to whether you're getting here by train, car, bus or bike you can expect a pretty easy commute to our coworking offices.
You'll also find the Serpentine Green shopping centre, located 3-minutes away from DESKGO, where there are 35 high street stores, a Tesco Extra and M&S food hall. This shopping mall is super handy to have if you don't want the hassle of nipping to the city centre, as it has most shops you would ever need. If you don't fancy the Serpentine Green, we also have a Co-operative food and Aldi just down the road from where we are based.
If you would like to read more about our location, please click here.
Budget 
Firstly, you should determine how much money you would like to spend on a coworking space. With this in mind, you can start look for a coworking office that offers the essentials you need within your budget. Remember that a coworking space will include all utilities, such as water, electric and Wifi.
Contacts
We also recommend looking for flexible coworking contracts. Lengthy contracts can often hinder your flexibility, at DESKGO you can be as flexible as you like, by renting a desk for a few hours, a couple of days or for an entire month.
The coworking space
You should always book a tour of your coworking office before you sign any contract. This is the best way to get a feel for the space and see if it's right for your business and working style. DESKGO offers several spaces for you to choose from:
Coworking desk or bench
Our most popular option, DESKGO's non-dedicated benches and desks allow you to be flexible, as you can book these just for the day or for a couple of hours.
Resident desks
If you're looking for something a little more permanent, our resident desks allow you to have a desk that is yours and only yours for however long you want.
Meeting room and booths
DESKGO has practical and stylish meeting spaces for you, your coworkers and clients. Our meeting rooms and booths offer a private and professional space to conduct business starting from £9 per hour.
Private offices
Our insulated air-conditioned private offices allow 3 people to conduct business comfortably.
Office amenities
Whilst it's important to think about the work environment, it's also equally as important to consider the amenities that come with your membership. Is free coffee a must for you? Do you need fast Wifi? Do you need printing facilities or meeting rooms for client calls?
The amenities a coworking space offers should give you everything you need to be productive, so be sure to choose a coworking office that has plenty of added perks.
Coworking Community
One of the biggest benefits of joining a coworking space is being surrounded by other entrepreneurs. Before you join a space, it might be worthwhile checking who your coworkers will be, as this will give you a chance to see if there could be any potential networking opportunities. You can usually find meet the team blog posts on your chosen coworking space website.
The social aspect of working alongside people who "get" your entrepreneurial challenges will also help you avoid the feelings of isolation and loneliness that often arise when working independently.
What you should bring to a coworking office

Now you have found your perfect coworking space, you are probably wondering what you need to bring with you.
Here are some essentials everyone should take with them when using a coworking space.
Your laptop and charger
Your laptop is probably the first item you slip into your bag. but don't forget your charger, cables and any external storage devices you regularly use to keep everything ticking over.
Headphones
In times of concentration, you may find you need selective sounds to drown out the office buzz
or a song to get you in the groove. Either way, headphones are essential if you find it difficult to focus.
Snacks
While coworking spaces do provide beverages and some snacks, we all have our favourite go-to snack items that can instantly give us that much-needed energy boost. By having your own stash, you can feel right at home and save yourself a trip to the kitchen or convenience shop.
Notepad and Pen
Sometimes the best ideas come from pen and paper, you'll never know when you might want to jot an idea down, so best to have one on you just in case that lightbulb moment appears!
Business Cards
Network network network. You're bound to find other professionals who could use your services and vice versa, so be sure to keep a stack of business cards handy for when a fellow coworker asks for your contact information.
Helpful Links
To book a free tour of the DESKGO coworking offices, please click here.
Sign up to our newsletter, where you can find the latest DESKGO news, events and offers.
The post The DESKGO guide to coworking appeared first on DeskGo.