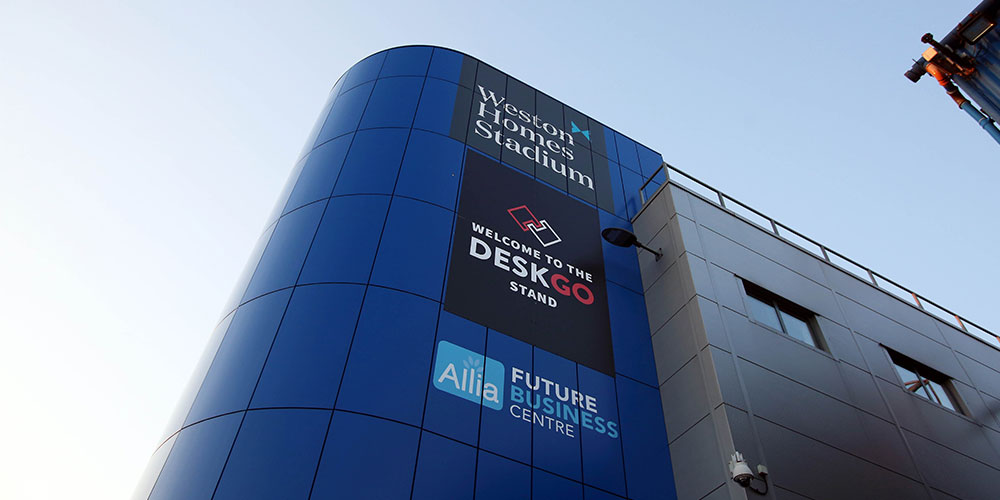 25 Jun

DESKGO and Peterborough United sign three-year stand sponsorship deal

DESKGO is delighted and proud to announce a three-year sponsorship deal with Peterborough United Football Club.

As part of our new partnership DESKGO will have naming rights of the East Stand at the Weston Homes Stadium for the next three seasons.

Along with installing branding across the DESKGO stand, we will also be running a number of exciting competitions and events for Peterborough United supporters.

Ariana Pampoulides, CEO at DESKGO commented: 'Peterborough United Football Club plays such an important role within our city and we are delighted to work together as part of our official stand sponsorship. We recently opened our new coworking office in Hampton, so when we discovered there was a chance to sponsor the East Stand we jumped at the opportunity. Having been Executive box members for the past year we share a real passion for the game.

We hope this is the start of a long lasting partnership with Peterborough United Football Club and its supporters."

Commercial Manager Alex Harris commented: "We are delighted to announce that DESKGO have signed a three-year deal and are excited to be working with such a forward thinking and progressive company. The deal will see the stand rebranded as the DESKGO Stand with lots of exciting initiatives planned for fans to get involved with in the coming months.  We would like to thank Motorpoint for their stand sponsorship over a number of years and look forward to developing new partnerships moving forward.

The East Stand is the most recent development at the Weston Homes Stadium and has been the home for many new supporters that have joined us through the Schools Initiative. The initiative will continue moving forward as the DESKGO Stand and we look forward to re-starting the project when it is safe to do so."

DESKGO would like to wish Peterborough United the all the best for the upcoming season.

The post DESKGO and Peterborough United sign three-year stand sponsorship deal appeared first on DeskGo.