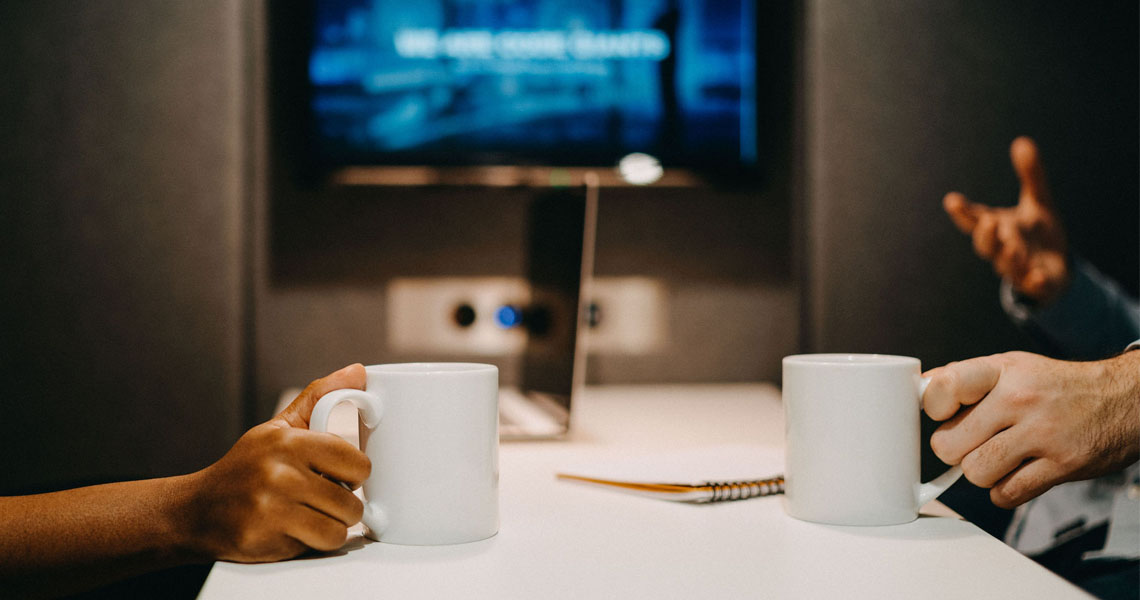 21 May

7 Common misconceptions about coworking

There are many misconceptions around coworking spaces. Despite the sharp increase in popularity over the last few years, many people have the misconception that shared offices are noisy with limited privacy and high costs. The myths about coworking are endless, so we want to try and set the record straight by exploring the most common misconceptions and give you an insight into what coworking is really like.
1. It's too noisy and there's no privacy
One of the many perks of a co-working space is being able to choose where you'll work. If your job requires a level of privacy or you need a quiet space for a couple of hours, DESKGO offers multiple spaces to choose from:
Common spaces – our most popular option with same noise level as a normal office


Insulated meeting rooms and booths – ideal for private phone calls and 1-2-1 meetings to discuss ideas with your colleagues, work on solutions and close deals with your clients.

At DESKGO we believe keeping your information and your client's information protected is important which is why all of our meeting rooms and private offices are soundproofed.
Like many office environments, our shared spaces will never be 100% silent, but according to a GCUC survey, 84% of co-workers say working in a coworking space makes them more engaged and motivated.
You can see all our space options here
2. They are for extroverts only

A lot of people assume you must be a sociable person to work in a coworking space and whilst networking can provide a lot of opportunities, how you choose to spend your time at DESKGO is completely up to you. Whether you need social connection in small doses or prefer networking with like-minded professional's, you will always find a space that compliments your working style.
Even though networking isn't a necessity when it comes to coworking, a GCUC survey suggests 69% of coworkers have acquired new skills or improved their existing skillset as a result of working in a coworking space.
3. You must sign a long term contract

Whilst this may be true for some coworking offices, at DESKGO you only pay for the length of time you need. We want to be as flexible as possible, so unlike standard office leasing, which typically requires a long-term contract, you won't be locked into any minimum term contracts. If you need a non-dedicated desk for a couple of days or a meeting room for a couple of hours, we have the coworking space to suit.
4. Coworking is expensive

Many people believe coworking spaces are more expensive than renting an office, but it's easy to forget that you're not just paying for a desk. DESKGO's coworking desks start from £19 a day, but this includes utilities, premium chairs, super-fast Wi-Fi, free parking, access to the coffee bar and office assistance.
 5. Coworking is only for freelancers

The biggest advantage of working in a coworking space is that you'll work alongside people from many different backgrounds who work in a range of industries. Coworking spaces are ideal for start-ups, entrepreneurs, home workers and established businesses.
Whilst your local coffee shop may provide you with a change of scenery, they can quickly become a distracting place to work. Avoid the hustle-bustle and the wait for small tables that have the only available plug socket, instead, choose a co-working office that offers great coffee like DESKGO.
Working from home has become the norm for many of us and there is much speculation as to whether it could be a permanent resolution for many businesses. Here at DESKGO, we believe our coworking space can make you more productive, and a happier remote worker. If you need a much-needed break from the house, our office can provide you with a spacious area where you can get down to business.
Whether it's freelancers, remote workers or corporate workers, a coworking space can be utilised by everyone.
6. Coworking is lonely

Coworking at DESKGO is quite the opposite of lonely! All the staff are super friendly and our office manager Jo will never be too far away if you fancy a chat. Our coffee bar is also a great place to unwind and socialise with other co-workers. On our doorstep, we have the picturesque Serpentine lake which is a great space to take advantage of if you just need a break away from your desk or you just fancy a stroll with your co-workers.

Most people who join a coworking space report feeling more social, productive, and ultimately, happier. According to Ergonomic Trends, 86% of co-workers feel they are part of a community whilst 79% of coworking users have expanded their social networks.
You can read more about the DESKGO team in our blog post.
7. Coworking spaces are not secure

Security is so important in a co-working environment and at DESKGO we have several security measures to ensure all our customers and staff are protected.
DESKGO provides swipe access to resident desk holders only.
Lockers are provided free of charge to store any valuable or confidential property.
The co-working office has CCTV covering reception, the coffee shop and the entire exterior of the building.
Any other customers who wish to gain access to the building during business hours can only do so via reception and are not given a swipe access.
Full day meeting room customers or coworkers may be given a swipe access to exit and enter at lunchtime only.
We hope we have cleared up common misconceptions of a coworking space. Coworking is becoming more and more popular, but as the popularity rises so does the number of misconceptions. When joining a coworking space make sure you visit it beforehand, so you have a feel of what the environment is like and if it suits your working style.
If you would like to book a tour of the DESKGO co-working space, please click here.
Sign up to our newsletter here, where you can find the latest DESKGO news, events and offers.
The post 7 Common misconceptions about coworking appeared first on DeskGo.