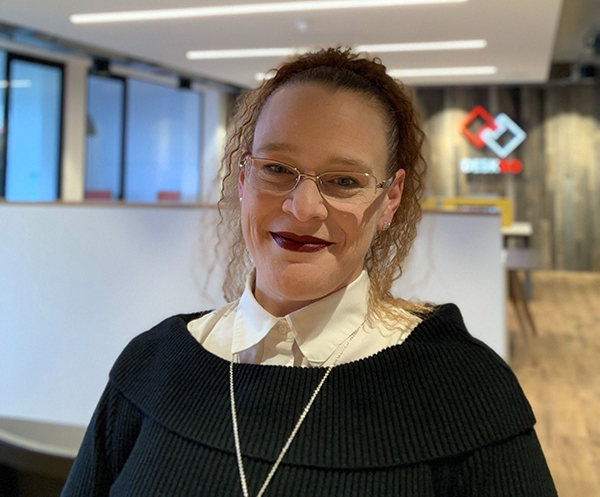 13 May

Meet our Office Manager – Jo Norman

Meet our Office Manager, Joanne Norman, affectionately known as Jo. The friendly face on our reception desk and the first person you meet when you arrive at our co-working office. We caught up with Jo to find out what life is like in the DESKGO office.
Can you give a small bio about yourself?
I have spent my career working in a few sectors such as distribution and recruitment to develop and expand my experiences, this has enabled me to become a strong but compassionate person. I love to be artistic and enjoy making clay figures for my children when we get time.
What does your job entail and what is a typical day like? 
My job involves looking after the building, our employees and our customers. A typical day? There is no such thing. My job differs daily depending on what is needed.
What do you like most about working at DESKGO?
My favourite thing about working at DESKGO is the environment. I love the space and how it has been designed with modern furnishings. I am also very lucky to work with some very lovely wonderful people.
What's your favourite work-time snack?
My favourite work-time snack would have to be a Biscoff biscuit or 2 with a wonderful cup of coffee from our coffee bar. I always try to make sure I have a stock of them somewhere.
What one piece of advice you would give to someone joining a co-working space?
Engage with everyone. The more open to this you are the better you will enjoy the environment and the more support you will find through connections.
What do you like to do when you're not working?
If I am not working, I am with my wonderful children. They are such happy and positive little people that they make me burst with pride. Without a doubt, they are the best thing I have achieved in my life!
What's a fun fact about you many people may not know?
I enjoy nothing better than a big water fight on a really sunny day!
Which 3 famous people would you like to have dinner with?
Ellen DeGeneres, Brian Cox and Dara O Briain
If you would like to get to know more of the DESKGO team, take a read of our previous blog post: The joys and struggles of working from home with the DESKGO team
The post Meet our Office Manager – Jo Norman appeared first on DeskGo.